Re: Certified Free-range Layers Imported from EUROPE; By Dr. Erwin Cruz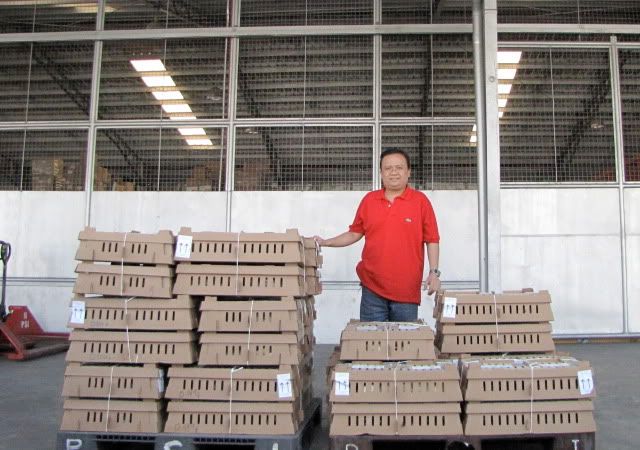 December 7, 2009, Superior F1 / Farmers' Choice has turned another chapter in the evolution of Free-range chicken in the Philippines. We have imported the first batch of breeders of TRUE FREE-RANGE LAYER TYPES that produces an estimated 250 eggs or more per year UNDER TROPICAL / RURAL AND FREE-RANGE CONDITIONS. (this is based under a good management program)
This project started way back September of 2007 and was duly accredited & approved by the Bureau of Animal Industry, D.A. for importation last September 2009.
We hope that with the presence of SUPERIOR F1 Certified Layers, we can help the New and small farmers, the OFW's, Retirees and other Kababayans who are very interested in a small but PROFITABLE free-range farming system.
I firmly believe that Free-range Farming must be an enjoyable endeavor for everybody.
We will be expecting production before June of 20101 so i invite those interested to get in contact with us at 09275059272 or 09178041101 for Pre-bookings and for Technical information kindly contact me at 0917-8951105.
You can also email me at freerangepoultry@yahoo.com WE HAVE A FREE MANUAL FOR THESE FREE-RANGE LAYERS! Kindly request from my email address please include your cellphone number for validation.
you can also visit our website at: http://farmerschoice.blogspot.com/
You can also visit The Main website of Dominant CZ, our supplier at: http://www.dominant-cz.cz/index_en.htm
This new product line is an addition to our exisiitng & reliable Superior F1 free-range chicks for Meat production from Grimaud freres, France. That are very Robust, Hardy and Productive.
Kind Regards to all and God Bless,:)
Dr. Erwin Joseph S. Cruz
Free-range poultry specialist